BANDIPUR NATIONAL PARK

| | | |
| --- | --- | --- |
| Location of Bandipur | : | Karnataka |
| Nearest Access to Bandipur | : | Mysore & Ooty (80-kms) |
| Coverage Area of Bandipur | : | 874.20-sq-kms |
| Climate of Bandipur | : | Winter : varies between18°C and 24°C, Summer: 21°C - 37°C |
| Major Wildlife Attraction in Bandipur | : | Elephants ,Gaurs, Tigers, Leopard, Wild Dog and sloth bear |
| Best Time to Visit Bandipur | : | April - October |
Bandipur National Park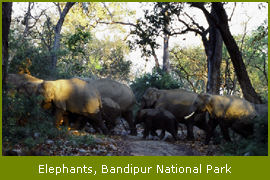 Bandipur National Park lies at the heart of an extensive forest at the confluence of the Western Ghats and Nilgiri Hills. It is situated within Chamarajanagar district in the southern state of Karnataka. In 1973, Bandipur became one of the first of India's Tiger Reserves and the southernmost of the nine reserves specially established under Project Tiger. In 1974, under the Wildlife Protection Act, Bandipur was notified as a National Park.
Major Wildlife Attractions – Bandipur National Park
Former hunting reserve of the Maharajas of Mysore, Bandipore today hosts a sizable population of Indian Elephant, Gaur and other mammals. It forms a continuous forest zone with Nagarhole, Madumalai and Wynad. The terrain of the park is undulating with rocky hills and valleys interspersed with meadows and seasonal watercourses. The reserve consists of southern tropical moist mixed deciduous and southern tropical dry deciduous forest types.
The ecosystem diversity is manifested in the variety of fauna like tiger, leopard, wild dog, jungle cat, Indian civet, common and stripped neck mongoose, black-naped hare, sloth bear, monitor lizard, Giant squirrel, crocodile, chital, sambar, muntjac, mouse deer, chausingha, wild boar, jackal, striped hyena. This park also boasts of over 200 species of birds including commonly found Peafowl, Grey Jungle-Fowl, Pompadour Green Pigeon, Honey Buzzard, King Vulture, Greyheaded Fishing Eagle, Brown Hawk Owl, Bay Owl, Malabar Trogon, Nilgiri Flycatcher, Malabar Pied Hornbill, Little Spiderhunter, Nilgiri Flowerpecker.
How to reach Bandipur National Park
Air :
The nearest airport is at Bangalore which is 204 km from Bandipur.
Rail :
Mysore is nearest railhead, a two and half hour drive.
Road :
220 km from Bangalore; 65 km from Mysore; 80 km from Ooty.
Tour Packages of Bandipur National Park
Bandipur National Park:
Bandipur (865 Sq. Kms) was setup by the Mysore Maharaja in 1931. It has mixture of sub tropical moist and dry deciduous forest and scrub land in the Nilgiri foothills. The wetter areas support rosewood, sandalwood, silk cotton and jamun. It is the first park in the south India to be chosen for the project Tiger scheme. You should easily spot gaur, chital, elephant, sambar, flying squirrel and four horned antelope, but tigers & leopard are rare. Also good variety of birds can be seen here.
Best Season: June-Sep, Jan-Mar.
SUGGESTED TOURS
»
Weekend Gateway
»
Jewels of South India Wildlife
SUGGESTED RESORTS
BANDIPUR NATIONAL PARK RESERVATION FORM